There was a time where humans and Pixies lived together in harmony. This is your chance to bring it back.
Hundreds of years ago, Pixies and humans were friends. No bad blood between the two of them. Humans and Pixies shared the Earth, but as time went on the Earth became harder and harder for Pixies to survive on. Cities were being built from the ground up, the Earth was turning into the place we know today. Overpopulated and Polluted. With only 5000 Pixies left on Earth, they became endangered.
People became greedy and desperate to get their hands on their very own Pixie. They were collecting them in jars and keeping them at home as their "prize possession". Neglecting and starving them. Anyone who was able to get their hands on a Pixie was guaranteed wealth and fame. There were no more Pixies out in the open, they had all been captured and locked in jars. But you can help them...
Adopt a Pixie jar today and save a Pixie from a horrible home. It is up to all of you to take care of them and restore the peace. We wish you luck.
Each Pixie has it's own personality, ready to take over the NFT space with feminine power. Some feisty, some bubbly, some shy. Each Pixie has her own set of unique traits and attributes. With hundreds of different traits, no Pixie is the same as another.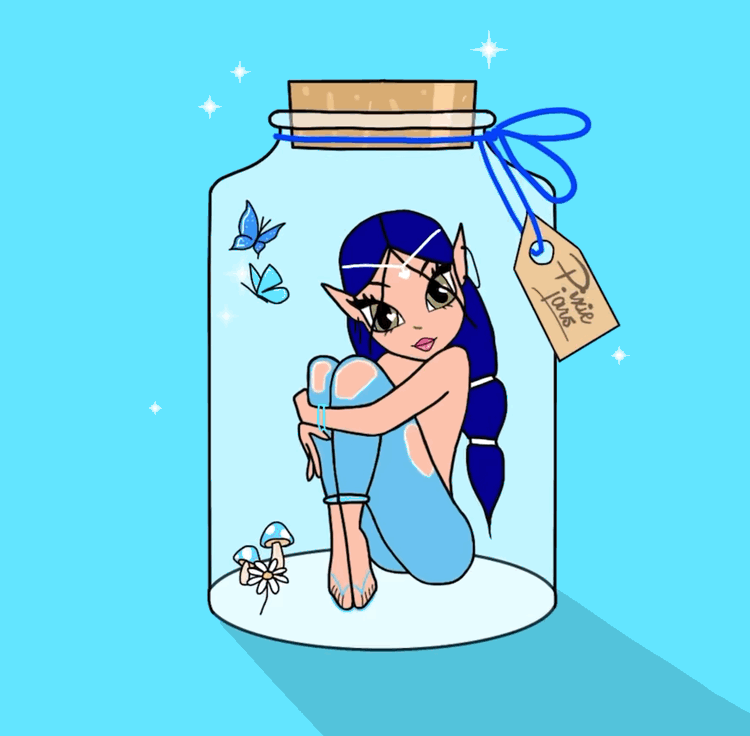 The Pixies are randomly generated ERC-721 tokens on the Ethereum blockchain. Each Pixie trait and attribute hand drawn before being coded via solidity. Pixie jars is a proud female led project. "You can do anything you want to do. This is your world" - Bob Ross